Digital Marketing Services
What is Digital Marketing?
Digital Marketing is an umbrella term that encompasses all areas of advertising and marketing online. This includes search engines, social media, email, and websites that connect prospective and current customers.
There are so many options today to choose from to market your business online. However knowing which platform, budget, and variables to set can be tricky, time consuming, and expensive.
That's where we come in. A digital marketing agency knows and understands all platforms, branding, and the psychology behind consumer behavior. The know how to make a budget work, track leads, and provide an ROI.
Every client may be different but the goal is to generate quality leads and convert them into repeatable customers. We work mostly with small businesses who have the potential for growth and an optimal client value for an achievable ROI.
Our focus is on generating leads and putting them in our funnel to track, convert, and provide ROI.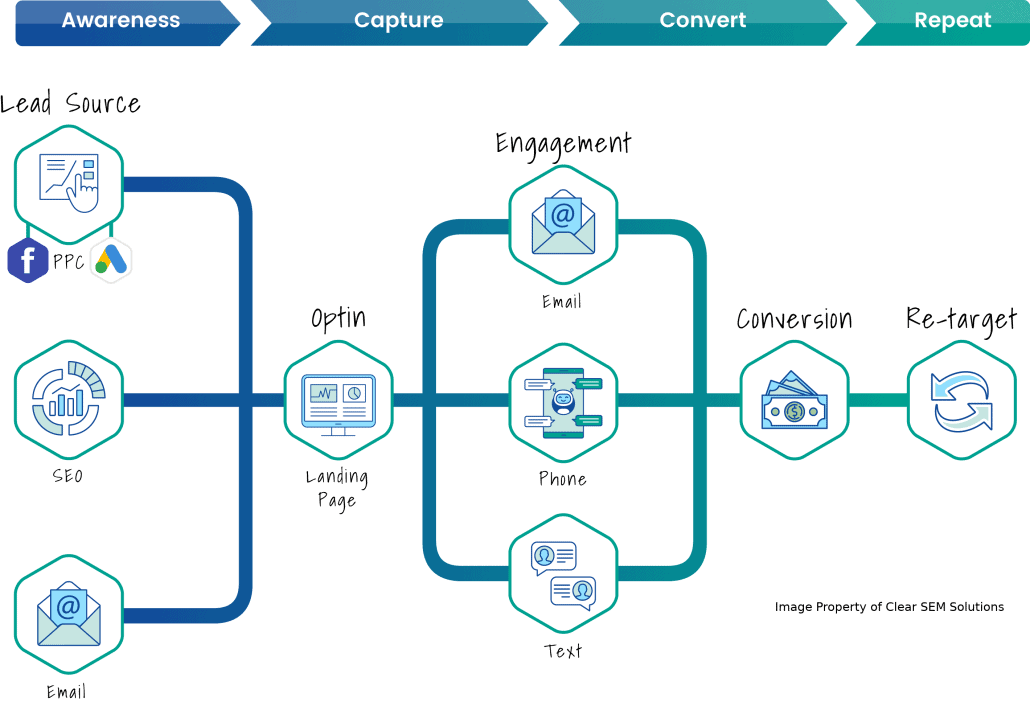 Our Digital Marketing Services includes:
SEO (Search Engine Optimization)

Keyword Optimization
Website Optimization
Listing Optimization

Reputation/Review Management
Social Media Management

Facebook, Instagram, Twitter, LinkedIn, YouTube

Social Media Ads

Facebook, Instagram, LinkedIn, YouTube

Google Ads/PPC (pay per click)

Local and National

Email Newsletter Campaigns
SEO (Search Engine Optimization)
Getting your business listing to appear on Google maps is crucial, but how do you get to the top? And how do you get your website to rank near the top of an organic search (non-map listing)? This is where SEO comes in. With the right steps and optimization we can get your website ranked for the right keywords so your potential customers can find you online.
Listing Optimization
We will create/claim/manage your search engine place listings (maps) on all major search engines such as Google, Bing and Yelp. We will make sure your listing info stays correct and up to date so that customers can easily find you.
There are thousands of directories online and most of them feed off of each other. So if your information is correct on one directory it could end up incorrect on all of them. Taking the time to claim and maintain them, updating information and making changes is very time consuming for business owners. Why are these so important? Imagine a customer trying to find your location and they do a quick search on the Internet using one of these directory sites but the address is incorrect and takes them to the wrong place. If they can't find your location they will probably get frustrated and end up going to your competitor. If they had an appointment they could be late. Having this information incorrect also plays a role in your ranking on search engines. Our program monitors your listings on sites such as: Google+, Yelp, BBB, Angies List, Foursquare, Yellowpages, Yellowbooks, Manta, Merchant Circle, Kudzo, Porch, Houzz, Judys Book and so on.
Reputation Management
Reputation management is the practice of understanding or influencing an individual's or business's reputation. Why is this important? A large percentage of people still base their decision whether to contact the business based on the reviews. With our reputation program, we manage your reviews across dozens of sites, keeping you informed of what is being said, and responding to each review. This can include Google, Facebook, Yelp, Angies List, Houzz, Yellowpages etc. Healthgrades, etc. Our reputation program also has the ability to gain new reviews using your existing customers and has proven to be very effective.
Social Media Marketing Management
Social media has become a platform that is easily accessible to anyone with Internet access. Social Media Marketing is the process of gaining website traffic through social channels. The increased traffic and communication for organizations fosters brand awareness and often, improved customer service. It is a great return on investment and a great way to create relationships with potential clients and to keep your current ones. Social profiles/pages are created and managed. This can include Facebook, Twitter, LinkedIn, Instagram, Youtube. We will create the posts, engage with the users, respond to reviews, messages and comments.
Ads Management/PPC
Generating ad clicks on Google and Social platforms is one thing, but optimizing them for quality and qualified leads that can convert into customers is another. Our team is certified in all Ad campaigns on both Google and Facebook/Instagram.
Email Marketing
Sending a monthly newsletter can be a good idea with the right audience, but do you know how to optimize your email list and send emails they'll want to open? Email marketing is a great tool to gain new business and repeatable business.
You're in Good Hands
Our staff trains weekly and is certified in all Google Products, and our Social Media team also holds Certifications.

Facebook Certified Digital Marketing Associate
Facebook Certified Creative Strategy Professional